In this section you will learn more about how the actual SPEP™ process works.
The SPEP™ Process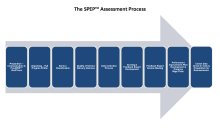 It includes a brief description of the steps involved and has pointers for how to best prepare for SPEP™ assessing your services.
How do providers prepare for SPEP™ Assessment?
It is important for both the provider and the SPEP™ Team (EPIS and Juvenile Probation Staff) that the service category and quality of service scores are as accurate as possible. The best way to ensure this accuracy is to organize materials in advance of the interview and to have relevant staff available during the interview. In other words, prepare ahead of time. 
There are a number of ways that providers can begin to prepare for SPEP™, to increase the likelihood of a good score, and to improve services sooner.
Ensure data collection processes are in place. 

If your organization is not currently tracking the number of hours and weeks that referred youth are receiving, begin to put data collection processes in place. 
If data collection processes are mostly manual and/or paper-based, identify ways to automate collection and reporting of this information (e.g., begin tracking in Excel, Access, or some other program that enables easy manipulation of data). 

Ensure data collected are adequate for reporting.

Rosters should show youth service start date and service end date. 
Number of weeks in the service should also be counted. Start and end dates do not adequately represent a count of the weeks of services that youth received. 
When possible, hours of service should be actual counts of service received. Hours of service for each youth should be recorded.
When data on actual number of weeks or actual number of hours are not available, the scorer must use the most conservative estimate of hours received.

Assess the status of written manuals and other protocol materials.

If you do not currently have manuals for the programs and services you provide, begin to develop them. These manuals are typically not the same as employee handbook manuals, employee orientation manuals, and the like. Manuals for programs should describe the service provided, to whom, by whom, and in what manner. See the "Written Protocol" section of the Quality Measures Checklist for more details.
Update program/service manuals if they have not been reviewed in over 2 years. Indicate somewhere in the manual that a review was done and the date.
Ensure that manuals are being utilized beyond training days. Manuals should be utilized in an ongoing manner and their use during service delivery should be documented or verified in some way.

Clarify and document how staff are supervised and how feedback is given.

Ensure staff delivery of services are being supervised.
Supervision should occur regularly.
Supervision should be documented (who was observed, what was observed, reactions to what was observed), and feedback should be provided to the staff-person observed. 
Feedback to staff should be documented. 
The SPEP™ developers at Vanderbilt University have put together the following resource to help providers prepare for their SPEP™ interview. This can be done 1-2 weeks in advance of the interview. Click this link to the SPEP™ Resources page, go to the "Preparing for SPEP™" section and download the SPEP™ Pre-Visit Checklist to ensure you have the most effective, informed SPEP™ interview possible.

What happens during the SPEP™ interview?
Information sharing between provider(s) and SPEP™ Team member(s)
Discussion of how a program is run, who runs it, what is covered, what days, etc.
Review of program materials
An important part of the SPEP™ process lies in gathering information from the service provider. Some parts of this information will come from conversations and interviews with provider staff, some will come from provider manuals, handbooks, and curriculum, and some will come from data management or attendance tracking systems.  For guidance on how to gather additional information see the above section "How to prepare for SPEP™ Assessment?"
For every service type provided, at least one interview will take place with one or more provider staff (managers, program delivery persons, coordinators, and at least one member of the SPEP™ Team).
The goals of these interviews are to:
determine the most appropriate service category for the service, and
to gain an understanding of how the service is provided and monitored for the quality of service section of the score. 
To determine the correct service category the SPEP™ Team will need to understand:
how the program operates on a day-to-day basis, 
what is the structure of service delivery, 
what type of content is covered in the service, and 
how often it is provided. 
To best understand the quality of service the SPEP™ Team and provider will review:
what the training protocol are for staff, 
how supervisors monitor the service delivery and provide feedback, 
what steps are taken when service delivery is off-course, and 
any written materials that relate to these areas. 

What data collection is necessary for a SPEP™ score?
To determine these parts of the score, the scorer will need:
Roster of youth in programs including:

Begin and end date for each youth
Number of weeks each youth in service (count)
Number of hours each youth in service (count)
All juvenile justice youth served in previous 12 months

Typically the scorer will request data on youth participating in the program over the past year. If the program serves a small number of youth per year, then two years of data may be requested. If no more than 10 youth combined were in a program across two years the program may not be scored.
The SPEP™ Assessment score includes:

risk level of youth served, 
number of hours youth are served, and
number of weeks youth are in services. 
The SPEP™ Team will look up the risk score for each youth. This score will have been determined upon the youth's entry into the juvenile justice system and arrived at using the Youth Level of Service (YLS) instrument. Points for risk level of youth served are awarded according to the proportion of youth who are in moderate and high risk levels.
Data on the number of weeks and hours of service a youth have received should be as detailed as possible. This will enable the scorer to provide the most accurate amount of points for this area. If a service provided to a youth is to be at least 1 hour per week, and the actual hours per week are not recorded, then credit can only be given for 1 hour – even if services are typically provided for more than an hour. Points are awarded based on the proportion of youth who have received the target number of weeks and the target number of hours.