Mission: EPIS is a university-based intermediary organization connecting research, policy and real-world practice to improve outcomes for children and families across Pennsylvania.
Vision: A world leader in translating prevention science to practice.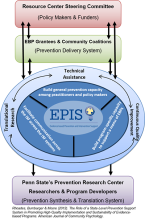 Directs outreach and advocacy efforts to foster recognition, at federal, state, and community levels, of the value and impact of proven prevention and intervention programs
Provides technical assistance to communities to improve implementation quality, promote the collection and use of program impact data, and foster proactive planning for long-term program sustainability
Develops and provides educational opportunities and resources to disseminate current prevention science research and facilitate peer networking
Conducts original evaluations to inform more effective prevention practice and the successful dissemination of evidence-based programs.