The PAYS State Report and many other PAYS-related resources can be found at www.PAYS.pa.gov
To Access our past newsletters and to find curated information for SCA's, Schools and Parents, check out this resource below: https://padlet.com/episcentersocialmedia/PAYS_Resources  
PAYS First Wednesdays at 1 PM Webinars

Stay on top of the latest information about all things related to the PA Youth Survey (PAYS) by registering for the 1st Wednesday at 1:00 Webinar Series! By registering, you and your staff will have year-round access to PAYS experts, local PAYS users and the most up-to-date PAYS-related information delivered right to your desk or conference room.  
All of the live Zoom sessions will take approximately 1-hour where participants will spend the first 30-40 minutes learning from PAYS expert(s) and the last part of session will focus on participant Q&A. 
It PAYS to Ask. It PAYS to Know. 
The Webinar Series gives members access to monthly/bi-monthly 1-hour webinars that address key PAYS-related topics such as: 
Survey Administration Best Practices 
Report Release Information 
Data Utilization Materials 
Survey Updates and Much More! 
How Registration Works: 
Webinar registration is FREE, you can register at any point during the series which runs annually from September through June.  
Once registered, you will receive a zoom link to use for each Webinar session.  
You will also receive reminder emails for each webinar.  
We encourage you to attend as many live sessions as possible, but each session will be recorded and accessible to you on the EPIS website. 
Use this link to register for the series now! 
Past Webinar Recordings: 
PAYS Panel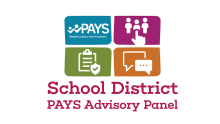 Let Your Voice Be Heard! Upcoming PAYS Opportunities!
Do you work within a school with youth? Do you have time to provide input in a virtual way approximately once a month? Do you want to be the first to know information about the PAYS Survey? 
This is an open application for an expert panel that will provide input to PAYSAG (PAYS Advisory Group) and state-level PAYS leadership on a variety of PAYS topics. We know your time is limited although you are with our youth every day and we NEED and value your input. We will forward information starting May 1st with additional details.