What is data-driven prevention planning?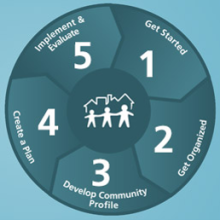 In many communities people can access objective information, or data, about strengths and weaknesses as well as characteristics of the general population.  This can help inform prevention strategies and program planning and help us to target efforts more effectively.  When we don't use a data-driven approach, strategies and programs can be planned based on personal interests of one key leader, sensationalistic news headlines, or other less factual information leading to programs and practices that might not improve life in our communities and could be waste of time or resources.
Want to dig deeper?
Explore the links below to learn more about resources for data driven prevention planning and sources of data for Pennsylvania communities.
Coalitions and the Communities That Care Approach

Groups of diverse community members can work together to understand the needs of a community using data and a systematic planning approach.  One of these approaches is the Communities That Care(CTC) model.
 
The Pennsylvania Youth Survey (PAYS)

The PAYS is a survey of 6th, 8th, 10th, and 12th graders that is administered every other year to students in any school that chooses to participate.  It helps communities understand strengths and weaknesses and helps keep tabs on common problem behaviors like substance misuse.
 

Pennsylvania's Department of Drug and Alcohol Programs (DDAP) Needs Assessment Project

DDAP is working closely with county drug and alcohol offices or Single County Authorities (SCAs) to use a data driven approach to planning prevention and intervention services for substance misuse and abuse issues across Pennsylvania.