In support of Pennsylvania's Balanced and Restorative Justice (BARJ) mission and as an integral component of the Juvenile Justice System Enhancement Strategy (JJSES), the assessment of services through the Standardized Program Evaluation Protocol (SPEP™):
Strives to improve the quality of service delivery to juvenile justice involved youth;
Assists in the matching of the right service to the right youth for the right amount of time;
Focuses on services for moderate to very high risk youth;
Engages service providers and juvenile probation in a collaborative effort to improve services through the flexible development of a performance improvement plan; and
Recognizes that locally developed programs and their services can be equally effective as those supported by research.
The goal of the SPEP™ process in Pennsylvania is intended to focus on continuous improvement of juvenile justice services in order to reduce recidivism. The Standardized Program Evaluation Protocol (SPEP™) Lifecycle shown below represents a process of assessing locally-developed and research-based services to see how well they align with the research-proven characteristics of effective programs.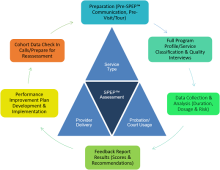 For more information and resources use the link provided below: