Image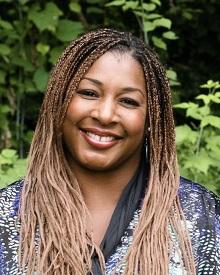 Lead Evaluation and Research Strategist
Work Address
EPIS
206 Towers
University Park, PA 16802
Dr. Jochebed Gayles is the Lead Evaluation and Research Strategist at EPIS and an Assistant Research Professor within the Edna Bennett Pierce Prevention Research Center. 
At EPIS, she identifies innovative tools and methods for effectively and efficiently delivering coaching and supports, and technical assistance to individuals and organizations adopting and disseminating evidence-based practices, policies, and programs. She received her Ph.D. from Penn State, where she studied adolescent health and well-being. Before coming to EPIS, she was a postdoctoral fellow within the College of Nursing at Penn State where she studied biobehavioral correlates of health and well-being among adolescent females.
Dr. Gayles is an unapologetic social justice and equity human development scientist. Her programmatic line of scholarship includes research and its translation, evaluation, and advocacy. She engages in these through both scientific inquiry and real-world application and practice. Her evolving research focuses on youth health and well-being in cultural, social, developmental, and environmental contexts. Dr. Gayles' research inquiries have been guided by ecological, social, and holistic developmental science theories for human development. Her attention to the dynamic multifaceted and multi-leveled nature of youth's ecologies and environments is evident in the theoretical, methodological, and equitable approaches she applies to explain healthy and unhealthy youth developmental outcomes. This informs Dr. Gayles' evaluation and translation work, which includes culturally responsive and equitable implementation and evaluation of strategies and approaches targeting youth health and well-being. In addition, Dr. Gayles' developing evaluation and translation work focuses on the equitable evaluation of policies, practices, and programs, and the development and execution of collaborative strategic planning frames for prevention and promotion; this work pays particular attention to understanding why and for whom programs do not work and how effective strategies can better reach and be tailored to serve diverse and historically underserved populations. Her holistic and equitable framework is informed by her research inquiry, her practice, and she lived experiences. Together, these guide her unending passion and devotion to promoting healthy youth development and supporting and empowering diverse scholarship in prevention science and public health.