Image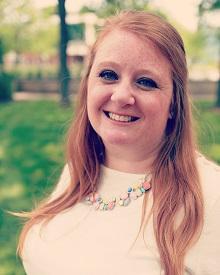 Systems Change Specialist
Work Address
EPIS
Elizabethtown, PA 17022
Meghan is a Systems Change Specialist at Penn State EPIS and certified Communities That Care (CTC) Plus coach.  In this role, she helps guide communities through the CTC process. Her focus areas are youth involvement, communications, and curriculum.  She has presented at the Commonwealth Prevention Alliance conference, the Blueprints for Healthy Youth Development conference, and CADCA's 28th National Leadership Forum.

Prior to her work at EPIS, she supervised Juvenile Justice programming at the Olivet Boys & Girls Club in Reading, PA for 9 years, which received the first SPEP evaluation in the state. She was a recipient of the Unsung Hero Award at Caron Foundation (2014),  Vice President of Reading Beautification, Inc. (RBI), PA Governor's Award for Outstanding Leadership and Service in the Arts for Youth or Arts in Education (2008), commendation from the City of Reading (June and December 2011), Field Instructor for Millersville University and Alvernia University, certified in facilitating Advancing Youth Development through Philadelphia BEST practices, involvement in planning the Youth Law Enforcement Forum through the DMC Action Network , and involved in the collaboration of mentoring programs in Berks County through the Route 222 Corridor Anti-Gang Initiative. 

Meghan earned her Bachelor of Science degree from Kutztown University, and her Master of Arts in Community Psychology and Social Change through Penn State University.